Here, you can download SmartGaGa PC with Android 7.1.2 (Nougat) latest version for Windows 10, 8 & Windows 7. Get the full setup of the SmartGaGa emulator offline installer. Enjoy the faster Android games on PC emulator without enabling CPU virtualization in system BIOS.
SmartGaGa Emulator is the world's leading Android Emulator, that can run smoothly on any 2GB memory machine. It lets you run any Android App on your device no matter what OS you have. It is a leading emulator in terms of providing an optimal gaming experience with FPS games like Free Fare, PUBG, Cyber Hunter, etc. The key advantage of SmartGaGa is its low weight and stability. It comes with Google Play, which lets you download and install thousands of Android Apps and mobile games.
SmartGaGa Emulator System Requirements
CPU: AMD/Intel Dual Core
RAM: at least 2GB (Recommended 4GB)
OS: Runs on Windows 10, Windows 8, Windows 7, Windows Vista, XP.
GPU: DirectX 11 supported GPU or graphics card.
Disk space: 1GB at least (5GB recommended)
Highlights & Features
Smart mode
SmartGaGa is built-in with Smart Mode which makes the mobile game experience on PC as good as PC games.
Turbo GPU Technology
Turbo GPU technology gives the best game frame rate. Because of this, SmartGaGa has no limitations. Moreover, the High Frame Rate is the power behind this high-performance emulator.
Titan Engine
Titan Engine is the world's leading non-virtualized emulator technology. It means unlike BlueStacks, MeMu, Gameloop, and other heavyweight emulators, SmartGaGa does not require CPU virtualization enabled.
Thus, it has become famous for reducing machine load and memory consumption. SmartGaGa can even run on a low-end computer with 2GB RAM.
Freeware
Same as other emulators, SmartGaGa is also available for free. So, players can save their money from wasting it on different types of emulators.
Technical Details
File Name: Setup_AndroidFs712_1.1.646.1.exe
Supported OS: Windows 10, Windows 8x, Windows 7
File Size: 286.83 MB
Author: Player First Technology
How to install SmartGaGa Emulator
Click the Download Link Given on this page.
After a successful download, click on the file twice to run the installation process.A
ccept the license agreement.
Choose the location of the file and click on the install button to install the program.
Follow the Windows Installation instruction that appears until finished.
Now, the software will be installed on your device.
Double click on the icon to run the Application into your PC.
Fix: Network initialization failed
For the first time run, the emulator might require the Internet with the following error message:
Error: Network initialization failed, please check your internet connection is available. Report.
Don't panic when this error message appears. You just need to connect your computer/laptop or desktop PC to the Internet for the first time running the emulator only. After that, you can use the SmartGaGa emulator without the Internet (offline mode) if you like so.
How to use SmartGaGa
How to open Smart GaGa Emulator on Windows?
After a successful installation, you will find an application icon either on the desktop or the start menu. Alternatively, you may use the Windows search feature to locate the emulator.
If worse comes to worst and you can not locate the app anywhere after installation, just navigate to the following directory path in Windows Explorer:
C:\Program Files (x86)\SmartGaGa\ProjectTitan\Engine
Most of the emulator controls are configured by the options panel on the right side of the app player. This options panel has the following controls to tune the emulator:
Settings
Shake the device
GPS settings
Multi-instance
Screenshot
Increase/decrease volume
Install external APK file
Keyboard setting
Fullscreen
Let's dig into the deep details of each option one by one.
SmartGaGa Settings
Settings are primarily divided into three sections:
Basic Settings
Here you will find configurations for Exit options, Language, Android version [KitKat or Nougat], and screenshots folder.
Improve: help the developers improve the product by sending essential information in the background. This option is turned on by default, you can uncheck the box if you do not like to send any reports about your device or anything else to the emulator development team.
Exit options
Prompt message
Exit directly
Minimize to the system tray
Language
English
Espanol
Portugues
Turk Dili
Android: Select the Android version
Auto (default)
Android 4.4.2 (KitKat)
Android 7.1.2 (Nougat)
Screenshots: Select the screenshots folder location
Shake the device
Sometimes we need to shake our mobile device for performing some activity or action. You may have experienced some apps or games which need your device to shake.
Whatever the reason may be, this emulator also has a button that shakes the device.
GPS Settings
Search and set any location worldwide by using the GPS features. You can set any location using the location name as well as longitude (lng) and latitude (lat). These features allow you to precisely search and set your desired location or country/city virtually.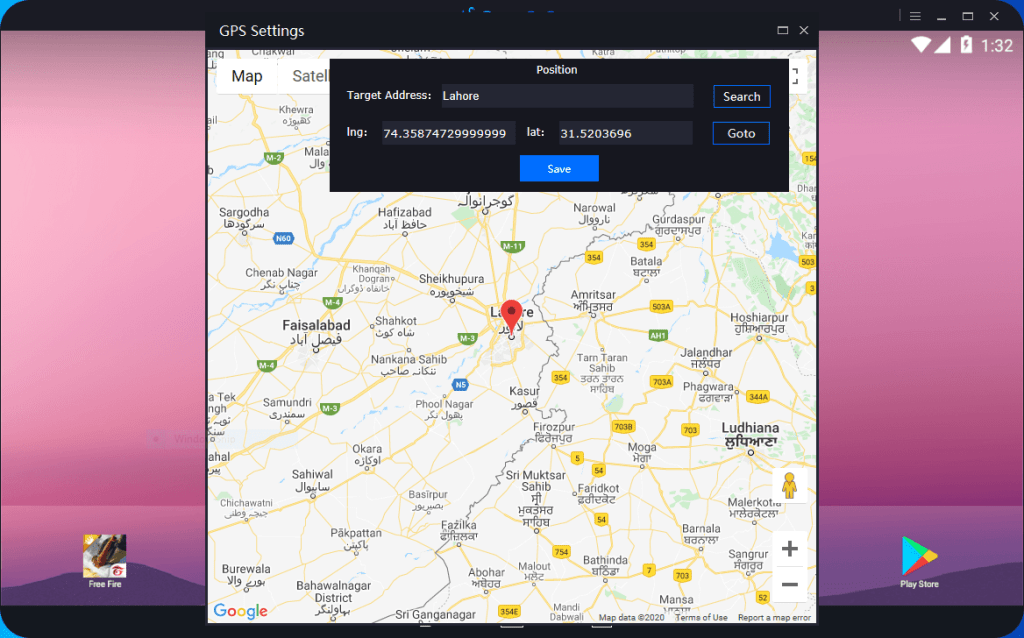 GPS Position settings
Multi-Instance
Another useful feature of this emulator is multi instances. Take advantage of the computer/PC big screen which allows you to open multiple instances of games/apps in multiple windows, simultaneously.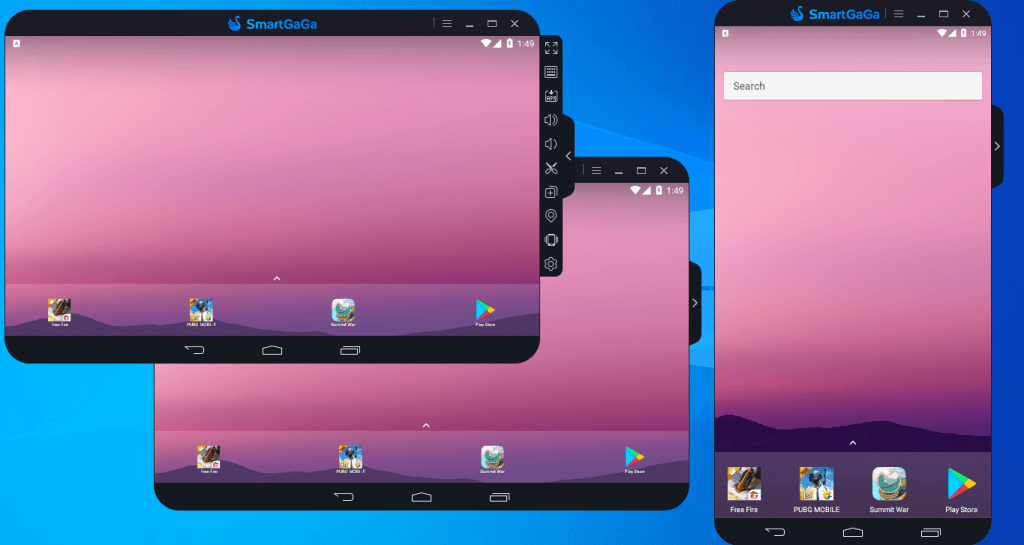 SmartGaGa Emulator  multi-instance feature
It means you can play more than one instance of the same or different games at the same time. Saying it better, an experience like you have many Android devices in front of you for playing your favorite games and gain "unfair advantage" of Android PC emulator.
Screen Capture
Capture the screenshot of the device screen using the Screen capture button. Taking screenshots is not a big deal on mobile phones and tablets. The benefits of screenshots double up in games.
Take a screenshot of games in the Android emulator
Therefore, including a screen capture feature helps you take screenshots and share them on social media like Facebook, Twitter, Instagram, Pinterest, etc.
Increase/Decrease Volume
Adjust the master volume to your choice. There are two separate buttons for increasing and decreasing the volume of Android players.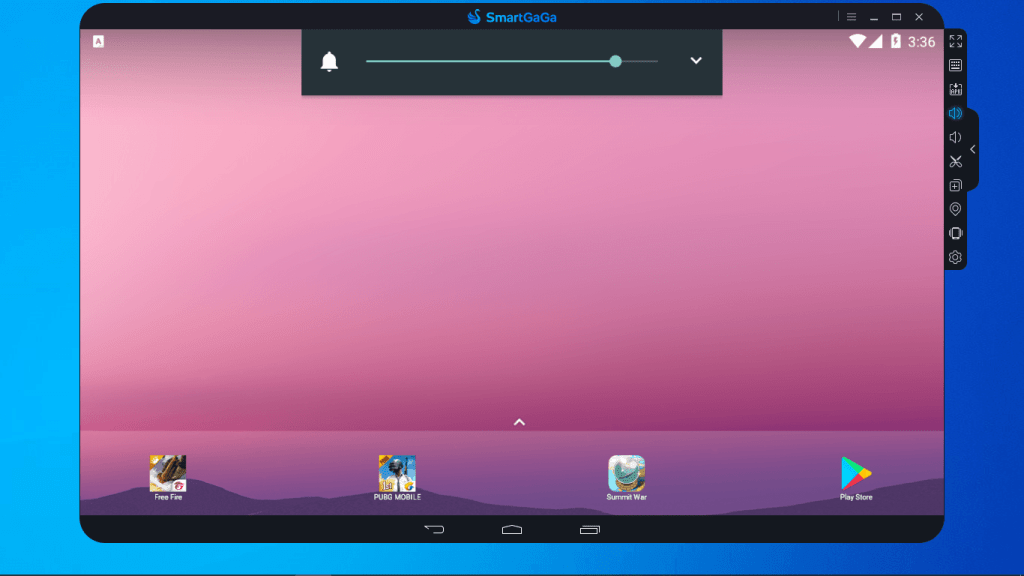 increase decrease volume
Install External APK
Google Play Store is the largest and most secure Android apps and games market, but this is not the end of the world. There are many Android markets that are alternatives to Google Play Store (like APK Pure, APK Mirror, etc).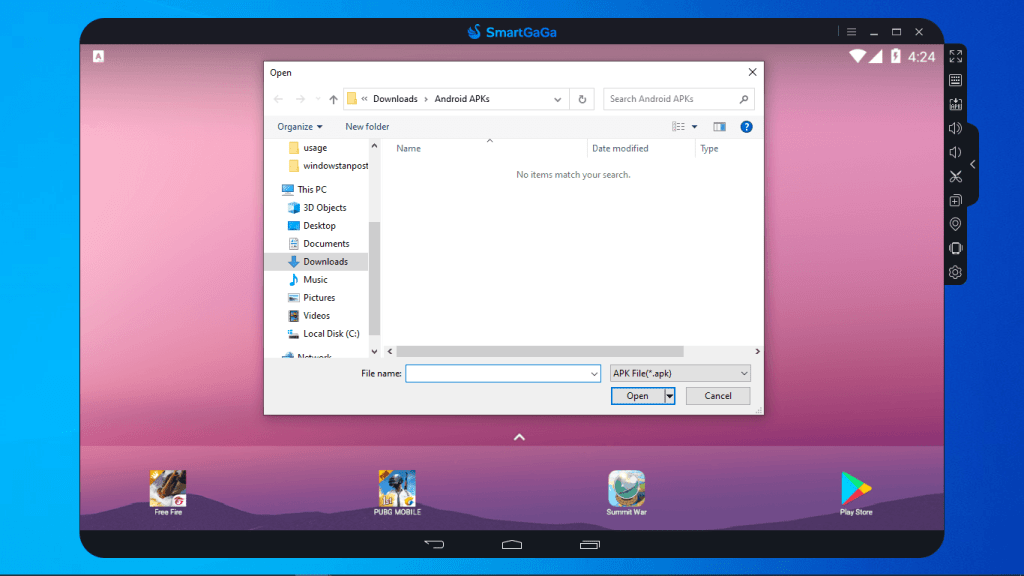 install external APK app or game in Smart GaGa player
The drawback of Google Play is that you have to download and install apps and games online each time you try to install. It consumes internet bandwidth and a lot of valuable time (which could be invested in playing games; LOL).
To avoid this repetitive installation, you need to download the APK file of that specific game/app. Alternatively, you can collect all your favorite games/apps APK files and install them without downloading them each time.
start install external APK by drag and drop
In the SmartGaGa emulator, just press the Install External APK button and load your desired APK. The installer will start and you can install a game/app just like your smartphone/tablet.
Keyboard Settings
Gamepad Mapping (SmartGaGa Emulator)
You can enable or disable gamepad mapping using the toggle box.
SmartGaGa Emulator keyboard settings panel